Drayage is an essential component of the logistics industry as many companies use this service as a necessity. Let's take a further look at what drayage is, what makes it so important and how it's used by businesses globally.
Nearly 95 percent of the world's manufactured goods travel in a container before they reach customers' hands.
What is a drayage service?
Drayage is a specialty logistics service that carries freight over a short distance and is an important part of intermodal shipping (using multiple modes of transport). It also involves moving ocean containers for ships, rails, or trucks. In other words, drayage is the moving of cargo, often from ports, to receivers using trucks. 
Drayage in the past and present
Originally, a dray was a type of horse that pulled heavy loads (aka a "draft horse"). These horses are large and strong to be able to bear all the weight from the load, such as Clydesdales. Dray also described the cart that these horses pulled. Therefore, "drayage" became the term that people associated with moving goods in a cart. 
In modern transportation, the horse was replaced by a truck. However, a person who performs drayage is still called a drayman.
These short distance movements are part of the supply chain process. So, with drayage, departure and arrival points are usually part of the same metropolitan area, compared to regional and national movements with other types of shipping.
What are the drayage classifications?
As with most things, drayage is split into several categories. The Intermodal Association of North America has published six drayage classifications.
Inter-carrier drayage
Inter-carrier drayage involves the movement of goods or units over a short distance and between different carriers (railroad and trucking stations).
Intra-carrier drayage
Though intra-carrier drayage sounds similar to the previous category, this type of classification specifically takes freight from a rail hub to an intermodal hub, all controlled by the same carrier.
Expedited drayage
As the name suggests, expedited drayage is when units are transported quickly and efficiently, as the material goods are time-sensitive.
Door-to-door drayage
This is probably the type of good transportation you are most familiar with: delivering retail goods to customers via roadways.
Shuttle drayage
Shuttle drayage is when an intermodal unit travels from its hub of origin and is temporarily taken to a parking lot. Loading and emptying occurs here when the hub becomes overcrowded.
Pier drayage
This is when an intermodal unit is taken to a pier or dock from its previous hub.
Nearly 95 percent of the world's manufactured goods travel in a container before they reach customers' hands. That being said, intermodal container shipping and the intermodal supply chain have fundamentally changed how the world's businesses conduct trade even though they are newer transportation innovations.
What are challenges to drayage services?
Unfortunately, container drayage costs are increasing- and marine terminals continue to be problematic. Highway congestion is affecting distribution. Large port complexes along the coastlines are struggling.
Environmentalists have regulated dray activities, seeking to reduce trucking pollution in ports. Businesses have become more aware of the costs of port congestion and driving regulation hours. In addition, public safety advocates are concerned about the impact of dray trucks on streets. But, drayage services thrive off eCommerce, and many jobs and specialties, aside from drayage businesses are dependent on eCommerce. 
However, because the entire country's economy depends on trucks, a common ground needs to be found.
How does Heavy Weight Transport mitigate these challenges?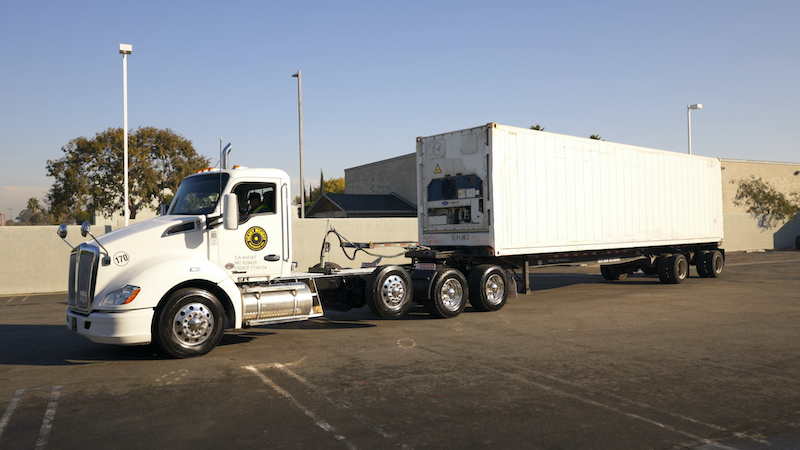 Specialized chassis and tractors
Heavy Weight Transport has designed and purchased their own specialized chassis and tractors, thereby increasing cargo weight and decreasing container volume and the associated shipping costs. In fact, all of our trucks are new and designed to reduce weight wherever possible. 
Positive global footprint
Their mission is to positively impact the global community by continually providing exceptional and ethical service in drayage, warehousing and brokerage to importers and exporters in the US.
Advanced technology
Heavy Weight Transport also uses an in-house proprietary Transportation Management System (iTMS) for their trucking and drainage operations. This allows for quick automation of internal processes from order receipt to customer service and operations, billing and driver settlements. They also have an in-house Warehouse Management System (WHMS) that is directly linked to iTMS that allows for management of transloading inventory without having to log inventory into the distribution and storage software.
What are the costs of dray work?
Dray rates vary and are complex- (Yes, this is a lukewarm answer, but you'll understand why.) Some charges are known upfront, like line haul rates, fuel surcharges, terminal charges specific to the location the cargo is dropped or recovered, chassis positioning, return or rental, overweight hazardous or reefer, and tolls.
While, others are not as transparent. These unknown charges include chassis split/repositioning, demurrage, detention/driver delay, layover, storage, yard pull. 
With dray trucking, the trick is to thoroughly understand your known services and factor in estimates of the unknown costs. This isn't always easy because you're emailing companies for quotes or using DrayMaster to figure out your unexpected costs, but it will make your life a whole lot easier. Working with established and reputable businesses like Heavy Weight Transport can help you to mitigate some of these charges. We have the knowledge and experience to reduce any additional charges.
On average, drayage costs can average between $80 to $100 per 100-pound load in the US, and with Heavy Weight Transport's iTMS and WHMS softwares, all rates will be transparent. Heavy Weight Transport is committed to meaningful and respected business relationships, and this begins with open cost analyses.
How are drayage services in 2020?
Intermodal trucking has seen a volume increase and limited air shipping options due to Covid-19. 
Volume increase
Volumes are elevated because shippers are rescheduling blanked sailings- These volumes are meant to fill current orders made by customers and help businesses stock up for the holiday season. FreightWaves explains that the current inventory-to-sales ratios are at all-time lows. There's a surge in US imports as goods demand is now 6% higher than it was before the pandemic. However, there's been a drastic decline in job availability as the US has cut over 100,000 jobs. The supply side hasn't kept up with the demand- There are supply chain disruptions, and homebuilders, retailers and producers are caught off-guard. 
Air shipping options limited
Shippers are stocking up on inventory, but there are fewer options on how these goods are transported across the ocean. Because there is decreased air travel, there is less space for air freight, which is causing shippers to turn to drayage shipping. Therefore, this is also leading to a drayage volume boost, resulting in a carrier deficit. This has led to increased drayage rates.
Why you should use Heavy Weight Transport 
Heavy Weight Transport has years of experience and credibility behind their name. They believe in lowered costs and raised expectations in addition to quality care of your goods through their specialized equipment- whether it be transporting wine and spirits, tile and granite, or lumber. Heavy Weight Transport is headquartered in Georgia, but also has offices that service ports in New Jersey/New York, Savannah, Charleston, Houston and Long Beach/Los Angeles.