Here at Heavy Weight Transportation, we are not strangers to navigating crowded ports. Crowded ports have been a unique challenge to the world of cargo shipment throughout the duration of the COVID-19 pandemic, along with many others. Upon the reopening of the economy in August of 2020, companies have been facing unprecedented demands for their goods.
We know that it is not always easy to have an understanding of what goes on in the world of cargo shipment, especially if one is not directly involved with it. With this in mind, we will provide a run down of the overall process of cargo shipment. For starters, it is important to be cognizant of the role that each key player has in the process. Importers are those that want to receive cargo from another country, exporters send cargo out of their own countries, and shipping companies are in charge of the transportation of these products. When a product is exported to another country, it is placed on a cargo ship and delivered to a port located near the final destination of the product. 
The Intermodal Process
Throughout the process of this delivery, shipping companies use intermodal trucking to get cargo from point A to point B. Intermodal trucking is essentially the transportation of freight with multiple modes of transportation. These can include rail, ship, aircraft, or truck. After the longest leg of the process, ocean travel, cargo is delivered to a port. A port is an area that can shelter numerous boats or vessels while also serving as a transaction of shipment.  Ports are where the cargo is discharged and eventually placed on another form of transportation to be delivered to its final destination. Needless to say, ports are a very important part of the cargo transportation process. They are the landing spot for all international exports and imports.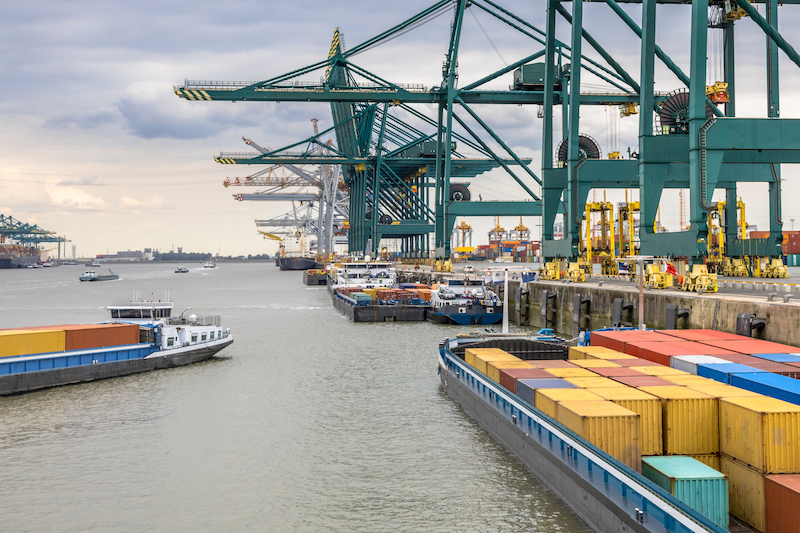 The Effects of COVID-19 and Different Consumer Trends 
Right now, ports are facing extreme congestion. In a place where all hands need to be on deck, there are not currently enough helping hands. Due to increased infection from the COVID-19 virus, the amount of employees working at these ports has dropped significantly, specifically on the Western Coast of the United States. Unfortunately, there is also a surge in the amount of goods being delivered to ports via ship. This is all a result in retailers seeing a surge in e-commerce purchases, which increasingly became popular throughout the pandemic. 
Additionally, spending patterns in the United States have changed significantly in the last year. There is a forecasted 11.99 million TEUs, or Twenty-Foot Equivalent Units, for the first half of 2021. To put things into perspective, that is a 26.9% increase from the same period in the year 2020. While it is great that business is increasing again, it is impossible for ports to keep up with the current demand they are facing. 
With all of the crowing happening at ports, port congestion is something that should not be taken lightly. Port congestion occurs when ships or trucks arrive at a port and can neither load or unload cargo due to port capacity being at an all time high. The only option for these ships or trucks is to wait until they can find an open spot in a port. Over the last year, the average waiting time for a spot has rapidly increased. 
For example, two years ago, there were usually only one to two ships waiting to unload at Los Angeles. Now, there are probably about twenty-six ships waiting at all times. Truck drivers have also reported extreme shifts in waiting times. Now, 63% of all drivers report having to wait at least three hours outside of ports. In addition to waiting times outside of the port, there are also increased waiting times inside of the port. This is the case because there are not enough employees to unload the influx of goods that is being delivered. This is definitely uncharted territory in the world of cargo shipment.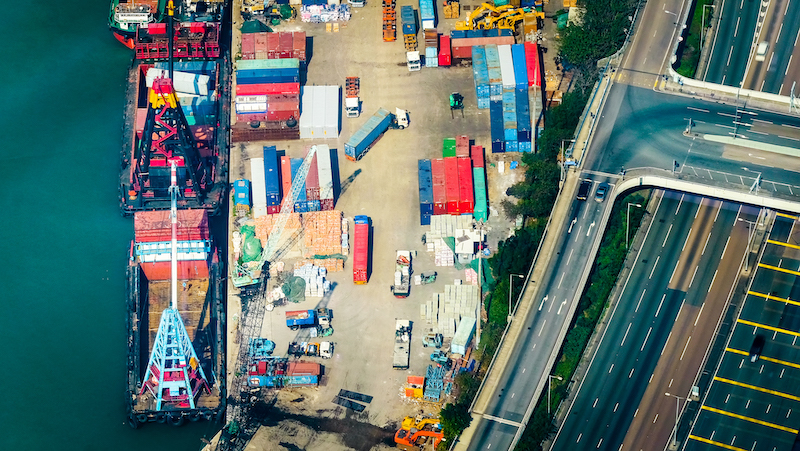 Hacks to Navigating Crowded Ports 
Moving forward, we would like to discuss some hacks to navigating crowded ports. After all, creative problems require creative solutions. If you are a driver for a shipping company, these could be very helpful for you!
1.Book the Earliest Appointment- It is always a good idea to have a head start on your competition. Try booking the earliest appointment that you can and making it to the port an hour earlier. This approach can help you completely avoid the traffic sitting outside of ports and ensure that you make your appointment time. 
 2. Avoid Break Times- Keeping lunch breaks in mind, it is wise to schedule around these times. We all know how frustrating it is to show up somewhere while all of the employees are on their lunch break. Consider scheduling your appointment time either very early in the morning or later in the afternoon to avoid the lunchtime lull. It is best to avoid the times that everyone is most likely taking their break.
3. Be Prepared to Change Your Schedule- If you have been sitting in a line outside of the port for what seems like an eternity, odds are you might not make it to your scheduled appointment time. That's okay! Sometimes, it is easier to call and reschedule your appointment for a time that works better. Given the current state of things, this is not uncommon.
4. Become Familiar with Your Ports- Just as every machine operates differently, so does every port. By developing a more intimate knowledge of your ports, you can decide which ones work best for you and which ones do not. Becoming aware of and selecting faster options is something that can make a huge difference in the process. 
5. Get in the Right Headspace- As humans, many of us tend to become stressed out when things do not necessarily go as planned. We tend to cope with adversity better when we have time to prepare. Being a driver in this day and age has its fair share of long waiting times, so remind yourself that the process might take longer than you anticipate. Try to remain calm and focus on things that will not further stress yourself out. 
We acknowledge the fact that being a cargo transportation specialist is not the easiest position to be in with the current state of the world. Let Heavy Weight transport help you with all of your intermodal transportation needs.