Intermodal trucking goes hand-in-hand with intermodal shipping- In order to understand trucking, you need to get shipping. When you move freight and use multiple forms of transportation, you are using intermodal shipping, whether it be by truck, rail, or plane. 
This article will discuss everything you need to know about intermodal transportation, particularly trucking, and how Heavy Weight Transport stands out from its competition in always delivering you your freight in a timely fashion.
What are the modes of transportation for intermodal services?
Intermodal transportation services involve the movement of freight in a container without any handling of the freight itself when changing transportation modes. There are a few different types of intermodal transportation means which includes rail, ship, and truck. Specifically, rail transportation concerns a shipment that arrives to a rail yard and is transported to another yard via train. Ship intermodal transportation is when a shipment in containers is being moved onto rail cars from a US port of entry. Lastly, intermodal trucking is when cargo is placed on a truck as it travels to its final destination point.
Heavy Weight Transportation's intermodal transportation services
Heavy Weight Transportation is the ideal source for all of your business's logistics because they have domestic and international partnerships with ocean freight, consolidation, expedited, LTL, truckload, specialized, and intermodal services, to name a few. They have strategically-situated facilities that help with their intermodal transportation methods. Their specialized equipment allows them to transport overweight cargo across the nation to its final destination point.
What are the benefits of intermodal transportation?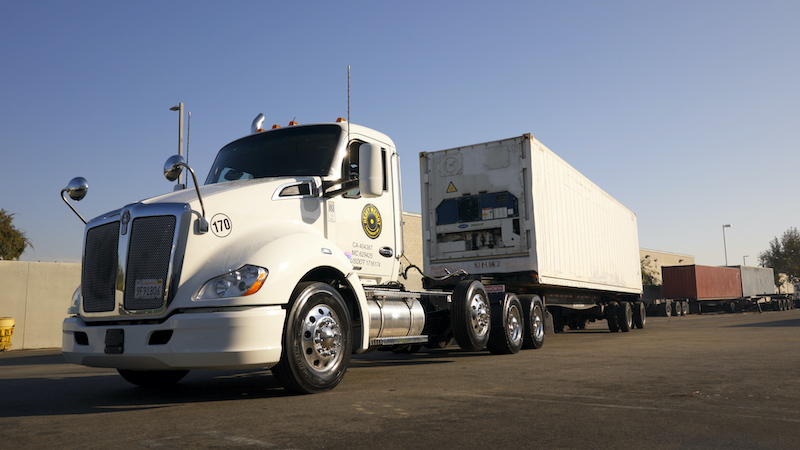 Intermodal transportation provides an array of benefits- of which includes price, carbon emission, highway congestion, and fuel cost reductions, and improvements to safety and security.
Price reduction
Long-haul domestic intermodal services offer significant savings compared to road-only transportation. In some lanes, direct savings are in excess of 30%, and total savings can be even greater if high-fuel surcharge percentages are applied to base line-haul freight rates. However, rail transport tends to take longer than over the road transport. You will also need to find a carrier to move it to the final destination once it arrives at the rail yard. 
You may also find that there are not rail lanes that match up well with the lane you need to run. 
Carbon emission reduction
When you ship intermodally by rail, there are significant environmental benefits compared to only using truck transportation. A long-haul intermodal shipment can reduce a carbon footprint by about half, helping companies, such as Heavy Weight Transportation, meet their sustainability goals of greening their supply chains. 
Heavy Weight Transportation is committed to positively impacting the global community by providing ethical intermodal trucking services. They understand how important it is to mitigate harsh environmental fumes and transport goods accordingly. For that reason, Heavy Weight Transport has one of the most fuel efficient fleets in the country. 
Fuel cost reduction
Transporting intermodal containers by rail is over two times more efficient than just by truck. For example, railroads can move one ton of freight over 400 miles on one gallon of fuel.
Highway congestion reduction
This point may be self-explanatory, but it needs to be said that one intermodal truck takes about 300 long-haul trucks off crowded highways.
Safety and security improvements
Rail services are significantly safer than over-the-road trucking services as railroads report a quarter of the number of accidents per ton mile than trucks. In addition to this, railroads have a track record of safely delivering hazardous materials. Railroads and trucks carry nearly equal quantities of HAZMAT ton-miles, but trucks have around 16 times more HAZMAT releases than railroads.
What is the difference between intermodal freight transport and intermodal trucking?
Intermodal freight transport is when you have a load of freight being transported by two or more means of transportation, such as ocean, rail, truck, or air.
However, intermodal trucking specifically involves the trucking concerned with an intermodal shipment. This is sometimes known as drayage. Simply put, intermodal trucking handles the first and last mile of a load of freight that has been shipped by ocean container, rail, or air, as previously discussed. 
Drayage and why Heavy Weight Transport stands out
Heavy Weight Transport is a leader in intermodal trucking, or drayage. They use their own specialized chassis and tractors, which increase cargo weight and decrease volume, as well as shipping costs associated with transporting goods. 
Intermodal trucking examples
Let's break down intermodal trucking even further with a couple examples-
When shipping a load from a manufacturing facility to Georgia, the shipper compares rates and discovers that it's cheaper to ship the load by rail. This raises the question as to how freight gets from the manufacturing plant to the rail yard. The answer is intermodal trucking.
Similarly, if you're shipping an intermodal container of pants from China, it arrives by ocean vessel at a West Coast seaport. Once it arrives at the port, a crane picks up the container of pants and places it into a flatbed trailer. The truck then hooks up to this trailer and hauls the intermodal container to its destination. This stop could be an intermediary stop or a final destination.
What are the intermodal transportation costs?
Rates are typically structured and calculated in the same manner as when it comes to all freight brokerage services. These costs are based on a cost per mile, or a flat rate. For example, flat rates with rail are determined by the ramp to ramp to distance and available capacity on the line haul. 
However, intermodal rates can be more complicated when secondary modes and other storage fees are factored in. This is why many shippers choose Heavy Weight Transport, since they automate all internal processes, like billing.
A lot goes on behind every shipment, and this directly affects the cost. In addition to the line-haul rate, there are other rates tied into intermodal spending, of which include drayage fees, distance from ramp, storage, time on-site and detention fees.
What does intermodal transportation look like in 2020
Like most, if not all modes of freight transportation, intermodal services are not operating normally due to the Covid-19 pandemic. The intermodal container and trailer volume went down, as did intermodal units. However, in October of 2020, intermodal freight increased by ten percent compared to 2019. Given the current state of the US and the pandemic, industries are preparing for another drop in volume, although they remain optimistic.
Why is intermodal trucking important and how does Heavy Weight Transport stand out?
In general, intermodal transportation efficiently and quickly. There is consistent capacity, safer measure, more fuel efficiency, and a greater convenience. Intermodal transportation thrives off eCommerce, which has boomed since the pandemic and continues to provide more possibilities instead of in-store purchasing. Companies have even turned to specific web development and enhanced user experiences to increase the rate of eCommerce spending, and therefore, more purchases and more shipments.
Heavy Weight Transport champions higher quality with lowered costs and more fuel-efficient intermodal transport. They understand the importance of proper care of your goods, so you can enjoy them to their fullest.