Over the past few years, Walmart has been expanding its private fleet. This is part of a trend of private companies bringing transportation of their products in-house rather than hiring third-party companies to do the work. Amazon is one of the most popular businesses that has practiced this model of transport.
It's no surprise that Walmart has added intermodal services to its transportation plans. While Walmart used to be the largest retailer in terms of revenue, competition from Amazon is rife, as the companies serve similar functions. The move from outsourcing to insourcing seems to be motivated almost exclusively by cost effectiveness. 
What Is Intermodal Transportation?
If you're not familiar with the industry, you might be wondering what intermodal services entail. Intermodal transportation is the movement of freight by two or more modes of transportation. Essentially, cargo is loaded into intermodal containers to help the journey between trucks, cargo ships, and trains run more efficiently.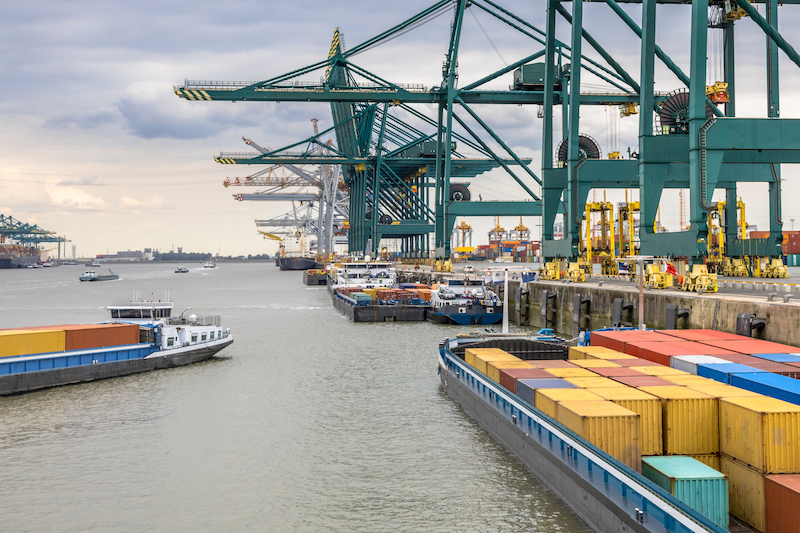 Walmart Truck Fleet
According to the company's website, Walmart's transportation fleet consists of more than 150 distribution centers, 6,100 tractors, 61,000 trailers, and more than 7,800 drivers. Additionally, each driver employed by Walmart averages around 100,000 miles each year. 
Walmart produced the container design in-house, including the chassis, double stacking, and roll-up doors. It seems that the company is interested in launching its own containers and employing its own drayage drivers. This is a big step in an outward direction for Walmart. 
This is a move to take over the company's entire supply chain. While this leaves employees with less flexibility in their jobs, it allows a lot more efficiency for delivery. Walmart realized that using third-party rail lanes was more of a liability than simply taking control of its deliveries. This method of cutting costs and increasing margins works for Walmart, as well as other large companies. 
Walmart Containers
Generally speaking, railroads are traditionally known for dealing and negotiating with freight forwarders, ocean carriers, and IMCs. They don't tend to speak directly with shippers because it would create too many individual accounts to keep track of. 
This move cuts out the middleman to decrease costs and increase efficiency in the business. This makes reliability on shipping a lot easier, as the company has control of its own operations. While Walmart has not completely cut out all of its third-party partners, the trend is that these third parties are at risk of being replaced through insourcing. 
Another way the company benefits from taking over its own shipping practices is that there will be more effective inventory management. Inventory management is incredibly important to corporate interests. When you are able to track inventory through the entire shipping process, you avoid potential mistakes or losses. 
What Does This Mean for the Transportation Industry?
Well, news of Walmart's private intermodal service can mean many different things depending on who you talk to in the supply chains. The "middlemen" or IMCs might tell you that this is a huge loss for their companies. For individual truck drivers, this means that there might be more demand for Walmart drivers. 
What is the Future of Transportation for Walmart?
This move isn't just Walmart news. Since Walmart and Amazon, two of the biggest retailers in the country, have been taking strides in the past few years to privatize their delivery services, smaller corporations might be following suit. The big dogs tend to influence the decisions and actions of the smaller ones.
With Walmart's history, we might conclude that this is where the shipping industry is headed. As the first company in the industry to create centralized distribution centers, Walmart has had logistics at the top of its agenda for years. This might be a push in a new direction for the entire transportation industry.
In the midst of the digital age, technology is going to play a large role in the future of Walmart and the industry at large. The focus on autonomous vehicles for shipping purposes has drivers worried that there might not be a place for them in the industry in the future. Automated delivery systems are the dream for many companies. Your product can get to the customer without having to pay a driver, thus increasing the company's profits. 
Walmart Cargo Carriers
While we can speculate all we want about the future of the national and international shipping industry, of course, we don't know for sure where it will go. Walmart's latest move to privatize more of its delivery services indicates that other companies might follow suit and take shipping logistics into their own hands. 
Other trends in the shipping industry that seem to be developing include addressing environmental concerns through decarbonization, optimization of e-commerce delivery, and growing carrier networks. It's difficult to tell who wins and who loses with each step forward in the shipping industry. As for Walmart's case, it's safe to say this decision was a win for the company.
About Heavy Weight Transportation Inc.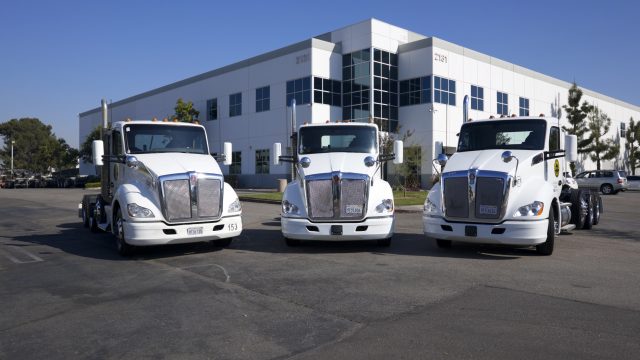 If you're interested in learning more about different modes of shipping or industry trends, look at our blog for the latest news regarding the industry. There, you'll find industry updates, advice, predictions, and more information on the global supply chain. 
On the other hand, if you're looking for a reliable company to deal with your business's shipping and logistics, look no further than Heavy Weight Transportation Inc. Our drivers are equipped with the best machinery and are passionate about the job. We focus on working as a whole team and keeping the business as simple as it needs to be. 
If you're a driver looking for a job, check out our job listings. We have positions available across the country, including Texas, California, South Carolina, Georgia, and New Jersey. Applications are open now, and you'll find that we offer excellent pay and benefits.