As technology has evolved, peoples' attention spans have become shorter. Thus, demand for constant new products and services has gone up. In this day and age, with promises of 24 hour shipping services, the transportation industry is in great need of  drayage drivers.
While technology has progressed, obviously some shipping and logistics tasks have been made easier. But, the shipping industry still relies heavily on trucks, barges, and trains to do the bulk of the work, as it has for decades. These are the staples of our global economy. Without truck drivers and other imperative transportation jobs, delivery of cargo wouldn't be possible at all. 
It's a common misconception that all truck drivers have unpredictable and often long distance schedules. For drayage drivers, this is not necessarily the case at all. If you're looking for a job that pays well and has a normal schedule, you might want to consider looking into driving drayage. 
What Is A Drayage Driver?
If you're not familiar with the profession at all, you'll need to know about drayage. Essentially, drayage is a form of transportation for products or generally large cargo. There are several different types of drayage services, but the common link between all of them is that the goods are transported over a short distance.
Drayage is usually part of a longer move that includes ships, trains, and other trucks. This service tends to be the beginning or the end of the shipping process, so it's imperative to keeping the global economy stable. 
When you think of truck drivers, it's easy to conjure a picture of someone who hauls an eighteen wheeler from one end of the country to the other, then turns around and does it all over again. The thing about drayage work is that you'll be moving containers from point A to point B on the local level. 
Why Take On Drayage Jobs
If you're still on the fence about becoming a drayage carrier, a huge appeal to the job is that it's in high demand. As stated earlier in this article, technology continues to advance while the transportation industry remains relatively stagnant. We need people to take on these jobs to appease the consumers. 
Without drayage, there's no way to get 24 hour, two day, or even three day shipping on items. This cargo needs to be constantly moving, which is where drayage carriers come into play. Because these jobs are in high demand, there are plenty of benefits associated with them. 
The first advantage you'll encounter is competitive pay. Benefits and working conditions have also been improved even over the last decade. Additionally, you'll encounter diverse types of work as well as more of a say in when you work and how you work. 
Types Of Drayage Work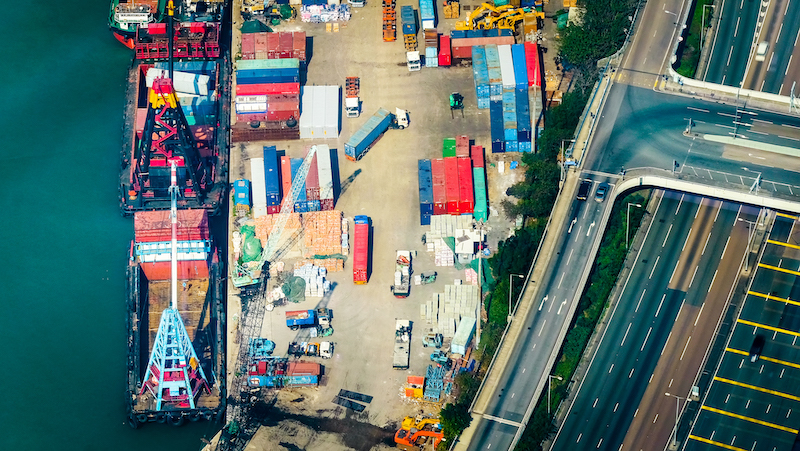 So, you might be wondering, if there is such a diverse span of work to do as a drayage driver, what exactly are the duties of a carrier? Well, there are six different types of drayage as listed by the Intermodal Association of America:
Pier Drayage

– Drayage delivery from a rail hub to a pier or dock. 

Intra-Carrier Drayage

– Intermodal transport between places in a hub of a single freight carrier

Intermodal Drayage

– Trucks that transfer cargo from one mode to another (rail to sea, rail to rail, sea to rail, etc.)

Shuttle Drayage

– Moving shipping containers for temporary storage whether they are empty or full
Expedited Drayage

– Urgent drayage for cargo that needs to get to its destination urgently

Door to Door Drayage

– Trucking directly from the transportation hub to the customer
This is why the word "drayage" might mean so many different things to so many different people. Even drayage carriers might not agree on a single definition of the word. 
How To Become A Drayage Carrier
The process to become a drayage driver is actually fairly simple. It's possible for almost anyone to become a carrier. The main requirement and one of the biggest hurdles for an aspiring drayage carrier is obtaining a commercial driver's license (CDL). If you attend a full-time driver training program, it will take you about 7 weeks to get your CDL. 
The second thing you'll need to get a drayage job is a special permit for entering a port. There's an application process for this. If your application is approved, you'll receive a worker identification card (TWIC), then you'll be registered in the driver database for the UIIA. This is the last hurdle before you can begin your drayage job. 
Here are some common requirements ports ask of drayage drivers:
Worker identification card (TWIC) administered by the Transportation Security Administration (TSA)

Class A commercial driver's license

21 years of age or older (Depending on the state, age regulations might be different)

Ability to operate 10 speed manual transmission

No major accidents for the last 3 years

No DUIs or DWIs
Become A Drayage Carrier Today
Drayage work can be quite beneficial not simply as a job but as a career. The world needs drivers, and not just long distance drivers. Additionally, it's not difficult to qualify for a drayage job. 
If you are interested in becoming a drayage driver, do some more research about the qualifications you might need and where you might want to work. If you have any other questions or concerns about drayage jobs or just drayage and the transportation industry in general, don't hesitate to contact us at Heavy Weight Transport. 
We at Heavy Weight Transport are dedicated to our customers' objectives, concerns, and goals for their cargo. Our drivers and other employees are vital to the success of our company and the completion of our clients' goals. 
All of our employees, whether they are involved with driving or logistics, work as a team. Currently, we have driver positions open in Savannah, Georgia, Elizabeth, New Jersey, Charleston, South Carolina, Long Beach, California, and Houston, Texas.