When we think about the US supply chain, you likely think of truck drivers. These drivers are essential to the US supply chain by delivering goods for businesses across the entire nation. However, when it comes down to the logistics of the supply chain, many people don't know the entire story.
The general population tends to group all types of transport that make up the supply chain together. For example, if you were to talk about drayage driving to someone outside the industry, they might not even be aware of the term "drayage." Even within the industry, drayage can take on a whole host of different meanings. 
However, one thing the entire industry can agree on is that drayage is an important aspect of the US supply chain. In fact, without it, the entire supply chain would not be able to function. Here's all you need to know about drayage.
What Are Drayage Services?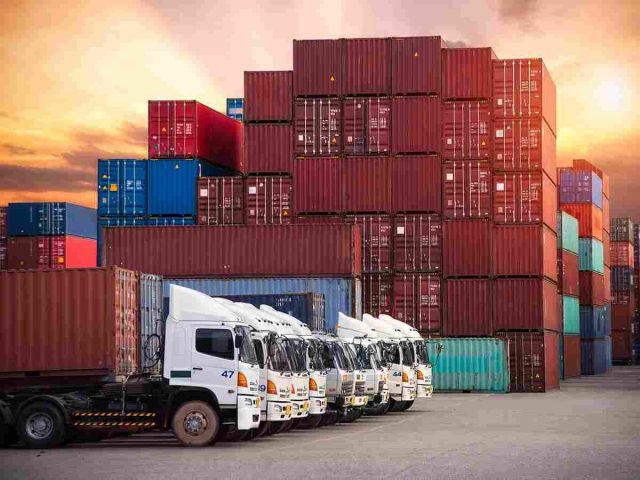 Like we stated earlier, drayage can have different meanings depending on who you're asking. However, by definition, drayage is the in-between transportation of freight usually from an ocean port to another destination. 
You can also consider drayage to be short distance transportation of freight. Sometimes people even consider it "the first mile" in the supply chain. If a drayage driver messes up, the entire supply chain suffers. This is why drayage is so integral to the shipping process. 
Drayage drivers typically go from point A to point B inside the same metropolitan area. This applies mainly to the container shipping industry. The first mile always sets up how the rest of the shipping journey will go.
As for the history of drayage, the word comes from "dray," which was a type of horse that was typically used to transport heavy loads. It also referred to an open-sided cart that the horse would pull. Of course, drayage has evolved to utilize trucks instead of horses, but people who are drayage workers are still considered "draymen." 
And there isn't just one type of drayage transportation either. Here are some of the different types of drayage services:
Pier Drayage

Intra-Carrier Drayage (IMX)

Inter-Carrier Drayage

Shuttle Drayage

Expedited Drayage

Door-to-Door Drayage 
What Exactly Is the U.S. Supply Chain?
Supply chains are networks of companies and suppliers that produce and distribute products and goods to consumers. There are a lot of moving parts in a supply chain, especially for one as big as what we have here in the United States.
The main reason for having a supply chain is to cut costs and receive products or services quickly enough to remain competitive and make a profit. The entities that make up a supply chain include vendors, producers, warehouses, transportation companies, distributors, retailers, and all of the people that help make it happen.
Obviously, there are many steps to the supply chain. The product doesn't magically show up on the shelf one day for the customer to pick up, although sometimes it might seem like it works this way. Drayage is often one of the first steps in this process. 
The elements of a supply chain include functions that begin with getting an order all the way through fulfilling the customer's request. This process includes product development, operations, marketing, finance, distribution networks, and customer service. 
In addition to all of these jobs, supply chain management and business logistics management are incredibly important to making sure the supply chain functions the way it's supposed to. 
Additionally, if every business had trucks at every US port, navigating in and around those ports would be almost impossible. Drayage companies keep the order on site instead of the chaos that would ensue otherwise. 
Why Are Drayage Services So Important?
There are many large ports in the United States. Some of the biggest ports are located in Los Angeles, Long Beach, Savannah, Seattle, Baltimore, Charleston, Newark, and Houston. These are just a few of the many ports located around the country. 
For container trade, over a quarter of the trade conducted in North America alone goes through the ports in Long Beach and Los Angeles. Overall, when you combine the two ports, they make up over thirty percent of the entire nation's market share. 
Just counting the Long Beach and Los Angeles complex, drayage is a 60 billion dollar industry. Most of us can't even fathom that amount of money even if we tried. 
This is one of the reasons that drayage is so important. 60 billion dollars is a lot of money on the line, so it's important that drayage goes as smoothly as possible when transporting goods from point A to point B. 
Drayage in the Modern Supply Chain
While truly local supply chains are few and far between these days, drayage still plays an essential role in the global supply chain. Multimodal transport is imperative to get goods to customers across the country or even the world. 
Drayage trucks are the short links that keep the chain together. Without drayage drivers, transporting products across the United States would be impossible.
Drayage Companies
If your business needs drayage services, consider working with us at Heavy Weight Transport. As implied by our company name, we specialize in moving heavy cargo in accordance with state regulations for heavy freight. 
Our fleet of multi-axis chassis are specially designed to haul sealed ocean containers weighing up to 64,000 pounds. This gives us a luxury that most other drayage companies do not have. 
Our fleet of tractors are younger and newer than most of the competition's, and we take care of all of the permit paperwork for you. Of course, in addition to hauling overweight loads, we're happy to move loads that are at a legal weight as well.
Even better, we operate all around the country including in New York, Los Angeles, Charleston, Savannah, and Houston. When working with us, you'll find that you'll be moving things easier and more efficiently. If you have any questions or are interested in working with our team, contact us today.