When you are looking to start, add to, or change up your shipping and logistics operations, one of the biggest considerations is how much the available options could cost you. There are many variables in freight transportation for different products, other freight, and locations from their starting point to final drop-off locations. In this article, we'll discuss some specifics about drayage freight, how much drayage costs, potential drayage rates, and some other top considerations to better inform your shipping and logistics decisions for increased success.
What Is Drayage Freight?
As you consider different decisions that can greatly impact your shipping and logistics operations, it's worth knowing more specifics about what drayage is and what it consists of. There are many definitions of drayage. Thus, there are differences in how drayage can function in your unique processes and business operations. Drayage is one of the most important aspects of the global trade market and supply chain and is most often used in container shipping. At its root, drayage typically refers to the transportation of freight with an ocean port as its starting point and various other potential locations as its final destination.
Drayage specifically refers to short-distance transportation between two points, as one part of a larger transport of goods. Drayage loads most often have starting and finishing points in the same metropolitan area, without any long-distance or national focuses. Broken up transportation with various types of transportation each with its own smaller focus helps increase efficiency, quality, and consistency of the work, processes, and freight results. Proper, efficient drayage processes can easily affect the rest of a given freight container's journey from start to finish, for good or bad.
Knowing Drayage Costs
Carrying various types of freight across large distances with shorter individual transportation sections can come with certain cost considerations. Drayage costs are important for your different marketing and sales efforts. Having more full knowledge of what drayage costs including the various options to consider for your shipping and logistics budget can help you have increased business success for your efforts, with the potential to cut costs and save in various areas. A lack of drayage and drayage cost knowledge can otherwise result in you paying more in various areas. 
For manufacturers and wholesalers, drayage specifically means the costs of moving various products for sale from a delivery vehicle to the final sale area. The steps involved in drayage that have potential costs attached include the following:
unloading the delivery vehicle

completing inbound receiving documentation

freight transportation from the receiving dock to the wholesaler's sale area

short-term storage of empty containers and crates used

moving unassembled freight parts from the sale area to the receiving dock

reloading vehicles with the empty containers, crates, and extra products

completing the outbound documentation.
What Does Drayage Cost?
Drayage costs include the expenditures of moving freight through different areas of the country. These costs can vary considerably at times, from location to location, during your shipping processes. Typically, with full truckloads, pricing rates are per mile. Other charges can include fuel surcharges, driver detention, toll charges, and other potential ancillary fees. Heavy Weight Transport can provide you with specific drayage rates depending on the different aspects of your cargo and transportation.
With drayage, costs are typically centered around the hours or time various steps take. It is based on time rather than miles as drayage is by definition short-distance travel. The top aspects that affect costs are mileage and time, ocean terminal charges, fuel, chassis fees, tolls, overweight fees, chassis split, driver delay, flip charges, and pre-pull.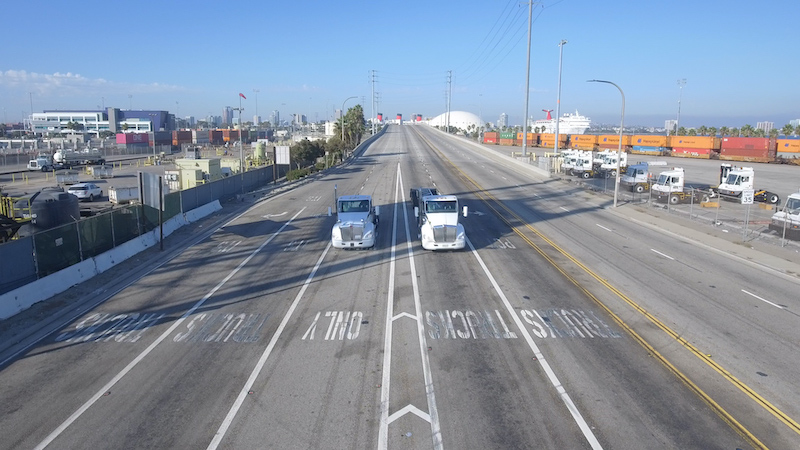 Mileage and Time
The time it takes will get you the linehaul rate that typically comes as a flat rate for round trips.
Ocean Terminal Charges
There can be additional charges for using a particular marine terminal, some more costly.
Fuel
There can also be a fuel surcharge as a percentage of the linehaul rate.
Chassis Fees
Some trucks use their chassis and fees. A rented or pool chassis can have pass-through costs or driver administrative fees.
Tolls
Depending on areas of the country, there can be pass-through toll fees and the potential for driver administrative fees.
Overweight Fees
Freight containers over the legal weight limit can incur permit or other overweight fees. With Heavy Weight Transport, you can save by being able to load more, as overweight cargo, legally.  
Chassis Split
There can be a chassis split fee if a driver arrives at a terminal for pickup without a chassis and has to pick up one at another location.
Driver Delay
Most drivers give a certain amount of "free time" but if delays extend beyond this, you may have a fee.
Flip Charges
These are charges typically assessed from the railroad or marine terminal if they do additional container movement.
Pre-Pull
You may have a fee If you're not ready for delivery and freight is about to go into demurrage. Drivers will pull and stage it for later, and you'll have a rate from this area to the final destination.
Top Ways to Decrease Drayage Costs
Knowing some of the top things in drayage that can increase costs can help you know the areas to focus on for the most cost-efficient drayage processes possible. Some other ways to decrease drayage costs include ensuring the highest possible efficiency at the different sites, palletizing your various freight types, trimming the weight of your freight where possible, cutting down the times it takes to accomplish transportation tasks, rigid adherence to a schedule, accomplishing tasks on time, using a growing versus a giant drayage company, and increasing and maintaining high levels of freight and logistics knowledge and awareness.
The Right Choice for Your Drayage Needs
There are a few impactful ways you can cut down on your drayage costs for increased business success. For decreased drayage costs and to avoid some actions that can increase costs, choose Heavy Weight Transport for your drayage needs. With vast experience, cost-efficiency, and quality equipment and service, Heavy Weight Transport is the right choice every time.